The process of the climate plan
The idea of becoming a pioneer municipality on climate came about by coincidence: "The heavy rain in 2007 flooded the golf course and it opened the eyes of some of the city notables, whom suddenly realized the seriousness of climate change," explains climate coordinator Line Thastum. They approached the municipality and asked what the municipality was going to do about it.

The idea of becoming a pioneer municipality on climate came about by coincidence: "The heavy rain in 2007 flooded the golf course and it opened the eyes of some of the city notables, whom suddenly realized the seriousness of climate change," explains climate coordinator Line Thastum. They approached the municipality and asked what the municipality was going to do about it.
A satisfactory plan for the golf course area was accomplished, which gave courage to explore the entire municipality.
The municipality had just designated funds for a new heating plan. This also provided for climate mapping. They therefore decided at the same time to survey how the climate situation appeared in Herning. They hired Rambøll to carry out a mapping and a plan.
The starting point for the climate work had been a decision in spring 2008 to follow the Green Cities' target of a 25% CO2 reduction by 2015. In addition, the municipality has adopted reduction targets of 15% of other greenhouse gases in 2015, and an overall reduction of greenhouse gases of 35% in 2030. Apart from these objectives, they could identify the starting point of today and the means to achieve the objectives – and this the climate plan process would lead to.
Climate Network
In line with Herning's tradition of this type of processes, the municipality took the initiative for a climate network and arranged a large public event, the Climate Camp in June 2008, in order to involve as many people as possible in the process, see Herning municipality's website.Herning municipality's website.
The municipality summoned local actors to an inaugural meeting for a climate network in 2007 and still stands as facilitator of the meetings held every other month. The more than 30 participating actors are representatives of local businesses, educational institutions and organizations.
Participants commit themselves to reduce climate impacts and contribute to activities that can reduce CO2 emissions. At the same time, the purpose is to exchange experiences and collaborate on applications for public funding for climate activities, and to give each company in the network an opportunity to distinguish itself as climate-friendly business / organization.
The climate network has been active and engaged throughout the entire process and has contributed with ideas and with the holding of the Climate Camp. The network has served as a sparring partner for the municipality in discussions on mapping of climate gases and the climate plan.
Climate Camp
The Climate Campin June 2008 is an example of how citizens can become involved in the development of a climate plan. There were nearly 100 participants, and there had been both expert presentations and workshops on the agenda.
Rambøll's climate gas-mapping was presented, and the attendees participated in workshops, which discussed the potential instruments to reduce emissions. Out of this process emerged a number of proposals. These proposals are processed by Rambøll and incorporated in the climate plan. The presentation of the climate plan was discussed with the network and with involved municipal departments during autumn 2008. The climate plan was finally adopted in February 2009.
As part of the process a climate newspaper was published, a climate-week was held and various campaigns on housing and transport were completed.
Climate Plan
The Climate Plan The climate plan is the first of its kind in Denmark and have been prepared with the help of Rambøll. It draws particularly on a survey of current climate gas emissions, involvement of citizens and local stakeholders through the creation of a climate network consisting of local organizations and businesses in 2008, and the organization of a Climate Camp in June 2008. In the light of Rambøll's work on the ideas, a mini seminar was held with 35 involved actors, after which the plan could be finalized and adopted in February 2009.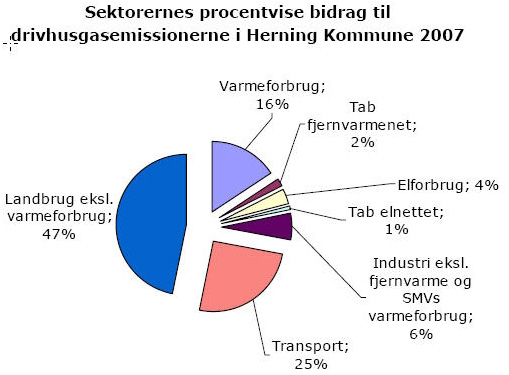 Targets:
Reduction of CO2 emissions by 25% in 2015
Reduction of emissions of other greenhouse gases by 15% in 2015
Reduction of total greenhouse gas emissions by 35% in 2030.

Focus areas:
The climate plan includes mapping of greenhouse gas emissions and targets and focus areas for:
Heat and power consumption
Industry
Transport
Agriculture
Agriculture and transportation are, according to the climate mapping, especially large emitters. On the transportation area the municipality will partly work for better collective transportation and improved conditions for bicycles, and seek to attract innovative solutions for electric vehicles and other renewable energy fuels. On the agriculture area increased use of bio fuels and biogas plants will be implemented and they will seek to develop new opportunities in collaboration with the agricultural sector itself.
The goal for district heating is to become 100% CO2-neutral in 2030 and that natural gas should be phased out. Targets are set out for the installation of wind turbines and biogas, and a focus on solar energy, efficiency of district heating, energy conservation and renovation of the building mass. .
Buildings and construction are explicitly mentioned, although not included as a key point:
"The municipality of Herning are by 2030 to facilitate additional energy savings in the building stock in addition to the nationally-determined energy savings, so that CO2 emissions are reduced by approx. 30.000 tonnes. This should be achieved through campaigns and demonstrations aimed at local citizens by seeing the municipality spearheading the efforts with respect to savings in their own buildings, by energy requirements for new construction and by a village effort. For example, the pilot project "Climate Village Studsgård" will be expanded. Efforts will focus on the buildings that emit the most CO2." "4)
Climate village
The citizen association in the village Studsgård with approx. 200 households have taken the decision to become a climate village and reduce the village's CO2 emissions by 25% by 2012. They are an example of an initiative grown from the bottom, which the municipality supports.
The municipality's green guide, Line Thastum has helped in getting activities started. So far the municipality has in cooperation with Energy Service West-Jutland completed campaigns in 3 villages. The Energy Service has made energy reviews of two houses in the village with suggestions for improvements.
All villagers and local craftsmen have been invited to a subsequent event in which energy consultants' proposals were presented and discussed. There have subsequently been intense discussions about the two houses which everyone knows. There have certainly been many views on the proposals from the Energy Service!
At the same time everyone could bring their own houses into the discussion and get advice from consultants and craftsmen. Other activities will be waste separation, transportation and climate-friendly food. Three families have signed up as "climate rabbits" and with help from a nutrition consultant will try to combine food with reduced CO2 emission, among other things food with reduced quantities of meat.
Activities can be followed on Studsgård´s homepage.
Background for climate efforts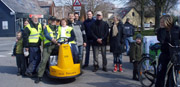 Beboere i Studsgård klimalandsby
What has influenced these many initiatives on environment and energy, and now climate change?
A large part of the explanation can probably be found in the local mentality and business structure, looking at opportunities for growth and attracting business, skilled labor and funds for local community through innovative activities. Furthermore, there is a tradition of networking and collaboration between many local actors, and responsiveness and strategic support from the municipality. The municipality has partly supported the various initiatives, economically and partly by assigning employees for coordination and support for events, networking etc.
Climate Coordinator Line Thastum lists 6 factors that are important for success:
Independence in the various departments provide rooting and ownership
Enthusiasts who know and want to work for a case, for instance renewable energy
Coordinator in contact with both the citizens and municipal departments
Binding cooperation / agreements, such as Green Cities and the curve breaker agreement
Desire for leadership and a green image and desire of gaining the benefits this can bring, such as international contacts, tourism, committed citizens, business, subsidies
Local business interests, who receive benefits through green initiatives and who pressure the municipality for development and efforts
To this can be added a 7th factor that emerged during interviews with the climate coordinator:
Environmental work should be fun, it should pick up what local actors are motivated for, it should see opportunities for convergence of interests and link visions of sustainability with current plans, it should build on and involve the engagement of people and it should generate new ideas and engage more actors.
Entrepreneurship and innovation
Herning municipality can be characterized by the fact that it to large extends work on making local actors perform environmental work themselves! The municipality carries out entrepreneurship so to speak, in which it uses its instruments to promote networking and projects.
Local actors put a lot of commitment and imagination in discovering and testing new methods, both organizationally, for example with networks and the Climate Camp, and technically, for example with hydrogen plants, electric vehicles and passive house building. Education and citizen participation are highly prioritized elements. Enthusiasts who are passionate about their ideas appear and develop ideas, such as Fruehøjgård housing association, hydrogen enthusiasts and the Studsgård-residents. There is room for big ideas out on the heath!