Naestved - sustainable construction and climate strategy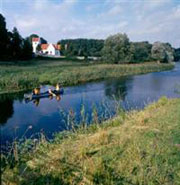 Naestved municipality has a wide range of activities on energy and climate issues with a focus on sustainable construction:
climate mapping and climate plan
Agenda-21 councils focusing on building
Roennebækhave - the first passive house
The green heights – single family houses with discount for climate efforts
guide to sustainable construction
wind turbines, heat pumps and new heating plan
and a variety of projects in the Agenda 21 framework, such as energy and environmental management, urban regeneration and campaigns.
The municipality has signed a curve breaker agreement with the Danish Energy Saving Trust to save 2.5% on electricity consumption in 2008 and 09, and is on the way to become a climate municipality approved by the Danish Society for Nature Conservation.
Climate on the agenda
Naestved municipality has as one of the first municipalities adopted a climate strategy and in September 2009 they adopted a specific plan for reducing climate gas emissions.
According to the climate mapping the emission of CO2 per capita is 10.2 tonnes annually, compared to the national average of 10.8 tonnes per year. The total greenhouse gas emissions in Naestved are 8.4 tonnes annually compared to approximately 14 tonnes per year nationwide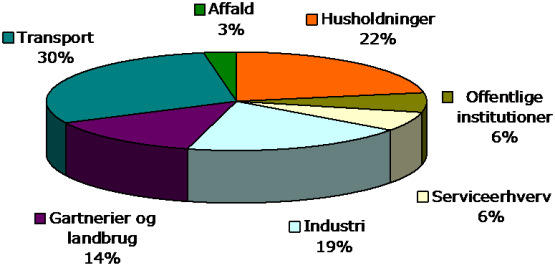 Emission of climate gases in Naestved municipality
Households and public institutions are responsible for over one quarter of the emissions; large reductions could be achieved as a part of building-related savings.
The climate strategy has an objective of reducing CO2 emissions that are at least equal to the national objectives. In the strategy a set of short and long term areas of focus are presented, but without concrete commitments. In the area of construction the climate strategy mentions the possibility of building CO2-neutral buildings and encouragement of construction of low-energy houses, just as it should be considered whether all new municipal constructions should meet the requirements of low energy class 1.
The process towards a climate plan
As a basis for the climate plan a process has been initiated:
Climate mapping in spring 2009
upgrading of the work on green accounting in municipal institutions
internal meetings and workshops in the city councils and administrations, spring 2009
public meeting with the presentation of climate mapping and summoning of ideas, April 200
workshop on sustainable construction in June 2009
adoption of climate plan in September 2009
competition with citizens in 10 cities on energy conservation, September 2009
twin town arrangement with the simultaneous campaign week on climate, October 2009
Rambøll will continue to propose projects for CO2 reductions and incorporate suggestions from citizens and the administration. It will focus on the removal of CO2 where it is cheapest; here a heat plan and use of renewable energy is identified. Permission has been granted for the construction of 3 large wind turbines, and work has begun on an idea for a large heat pump plant used for district heating.
In the municipal buildings easy savings have been completed so energy savings should be achieved by major renovations. In addition, campaigns and information to citizens and requirements of low energy new buildings are considered
Tradition for Agenda-21 - political support
It has been characteristic for Naestved municipality that it has had an active agenda-21 work over many years, first in the previous Naestved municipality and now also in greater Naestved municipality. There are 3 Agenda-21-coordinators with each their area, and a climate coordinator which is placed under the department for environment and development. There is also a coordination committee with representatives from all municipal departments so that initiatives can be launched with rooting in the relevant departments.1)
Examples of Agenda 21 activities are:
Catalogue of sustainable construction
We cycle to work campaign
Climate workshop in cooperation with the Association of Sustainable Cities and Buildings (FBBB)
Aagaarden (a cafe-activity facility) will be organic
The first Agenda 21 strategy was adopted in 2003 and the current action plan is for the period 2008-11. Here, CO2 reduction and energy efficient buildings are a focus area in 2009
There has been political will to support sustainability initiatives. In the local plan strategy 2008-20 is highlighted that:
"The town council has a vision that Naestved municipality must be in front of Danish municipalities in the work with Agenda 21 and sustainability seen in relation to environment, transportation, business, social matters, ethnic matters, health, culture and economy"
This is reflected in the financial and personnel support to the Agenda-21-board and Agenda-21 citizen group, an Agenda-21 award and grants for various activities, and the new initiatives on the climate area.
Agenda-21 network
In 2007, the municipality's agenda-21 coordinators initiated the formation of networks which could work independently with ideas for Agenda 21 activities with support from the municipality.
The Agenda-21 council consists of representatives of organizations and institutions, while the Agenda-21 citizen group consists of people who want to work with nature, environment and health without having to represent others than themselves.
The Agenda-21 board consists of the local association for nature preservation, hunting and angling associations, the business council and others, as well as representatives from various municipal departments. They give out an environmental award, plan field trips and organize activities. They have also established cooperation with local manufacturers and stores with objectives on ecology and energy; Agenda21land. This forum has created a website, www.agenda21land.dk, where one can find farm shops and construction products with a sustainable content. 29 various local construction companies advertise here for environmental and energy-efficient building solutions. Agenda-21 citizen groups can get support for ideas of a sustainable nature.
Sustainable construction
The municipality has chosen to focus on sustainable construction in 2009 and altogether prioritize sustainable construction in their plan strategy where they have agreed on:
Naestved Municipality will consider a sustainable choice of materials in all situations, from construction to food to cleaning articles, etc
Organization of all construction projects from Life Cycle Costing and holistic assessments, involving both the installation and implementation side and management side. Thus, additional costs in the startup phase often reduce costs during the operational phase and minimize unintended side effects." (Local plan strategy p.11)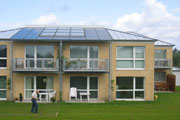 Rønnebækhave passivhus (foto fra www.danskbyokologi.dk)
There are many initiatives promoting sustainable construction in Naestved:
Skovburren - in 1997 extra insulated building with 72 dwellings was established as a development project by the housing association "Boligselskabet af 43".
Passive house in Rønnebækhave - in 2006 a property with 8 apartments was constructed as the first house that met the criteria for passive houses in Denmark, by the housing association Trollebo as part of a larger residential area, see Roennebaekhave
Catalog for sustainable construction projects in Naestved with requirements and guidance on how to build with consideration for the environment and nature. The catalog contains both requirements for what must be done in municipal construction projects, and guidelines for what can be done. Developers have to account for how they have lived up to the catalog's guidelines and provide justifications for what is not done. However, there are unfortunately no resources in the administration to follow up on whether the catalog's guidelines are followed. The catalog is to be reviewed in 2009
Operation and maintenance of municipal buildings - green accounting has been initiated, so there are figures on their own energy consumption in buildings, and energy savings have been made regularly so that the low hanging fruits have already been plucked2)
"The green heights" - an innovative effort to promote energy conservation and renewable energy in areas designated for single family houses. This area invites to an expo of buildings, very much like the Future Single Family Houses in Herfolge. Developers can get up to 150,000 DKK in discounts on land (equivalent to a price reduction on 18-30%) if they build according to energy class 0 and / or implement photovoltaic cells on the roof, see description and requirements on www.degroennehoejder.dk. Unfortunately, the economic slowdown has reduced the desire to experiment, so there have not yet been sold building plots with discounts (May 09).
Stenlængegård area – is mentioned in the climate strategy as an area where CO2-neutral houses can be constructed and where a visionary and spectacular arena could be build - these visions have unfortunately been put on hold due to the economic slowdown.
Finally, the climate strategy mentions that the municipality should consider requiring low energy class 1 in local plans.
Potentials for sustainable construction
Naestved municipality hold many potentials and driving forces that could promote sustainable improvements in construction.
First and foremost it is a relatively prosperous municipality with high employment rates, many newcomers and approximately 4000 small and medium sized local businesses. Approximately 1/5 of the around 40,000 employed citizens are public employees and approximately 1/3 is employed outside of the municipality. Naestved town is characterized as one of the two most enterprising commercial cities (Kolding is the other), as measured by the proportion of people who come to Naestved from other municipalities to shop. (From facts and figures about the city, see the website).
Furthermore, there is political support behind the sustainability vision for constructions, and the level of capacity have been build just as the organizational structure have been optimized which can support sustainability initiatives, both within the municipality and in networks independently.
The opportunities readily available to the municipality are under consideration in the climate plan. The barriers are understandably enough economy and lack of resources, driving forces and stakeholders to push the development forward.
In terms of economy different possibilities can be pinpointed:
Opportunities to save on operating costs through investments in energy renovation. Since municipal buildings generally are energy optimized, they could look at buildings which must be renovated anyway: would it be beneficial to renovate according to passive house standard (saves heating installation), or install energy saving equipment (e.g. LED lighting or intelligent energy management) or renewable energy (solar, heat pumps)? If, for example a school is to have the entire roof structure replaced – can it then be combined with energy-saving measures, perhaps even so interesting that they can get funding?
Opportunities to create experimental projects with large companies or research institutions, for example Rockwool, Danfoss, Risø or Dong which might be interested in contributing or applying for resources for R&D. The large Arena project would be suitable for this. Perhaps the energy renovation of a school could serve as a demonstration project?
Opportunities to motivate other major actors to invest in building or renovation projects in Naestved municipality. Here is "the green heights" an interesting experiment. One could also imagine that housing associations in Naestved may be interested in energy renovation projects or installations of renewable energy, especially those associations that have previously been involved in experiments.
Opportunities for energy companies to contribute to energy saving measures due to the requirement for them to be able to produce CO2 savings. Another option is to finance energy saving measures through electricity bills. The energy company makes the investment and realizes the investment through the annual savings. Both DONG and SEAS offers this possibility. Therefore, they could also have an interest in finding the cheapest possible options of CO2 reduction. It may, for example be intelligent energy management, replacement of lighting and ventilation systems or installation of renewable energy plants.
In terms of actors who could put in efforts and resources in working with sustainable construction different possibilities can be pinpointed:
the housing companies, as mentioned above
Local companies with interests in different initiatives. There are for example 4 talented architect companies in the area and there are representatives of the building craftsmen related to the Agenda-21 board, such as electricians, carpenters etc. There may be opportunities to offer packaged solutions and form syndicates on cooperation on offers of energy renovation to private house owners and institutions. If financial advice, banking offers and supervision was made part of such a syndicate it could be an interesting offer.
Civic groups – e.g. a village or owners' association who might be interested in having energy audits carried out and subsequently have craftsmen offer their assistance. It could also be individuals who are committed to the environment, like the "1 tonnes less" campaign, and even launch activities, like climate village Studstrup in Herning municipality.
Employees of institutions and companies that might be interested in contributing to the climate frinedly building solutions for renovations.
ESCOs, i.e. actors who may be interested in conducting or financing energy initiatives in exchange of a share of the savings achieved, for example energy companies, banks, consortia of construction companies or ESCO companies.
Construction companies that can offer various forms of sustainable building solutions, for example architects, energy-efficient building components, standard house companies, etc.
Although it seems as if there are no customers for sustainable new build - people do not choose their home on the degree of sustainability – there is a growing commitment among the people in relation to adaptation to climate change and CO2 reductions. Since Naestved in many ways is a cultural and commercial center for southern Zealand and since there are many relations to other areas and towns due to the many commuters, one can imagine that it should be possible to run campaigns and motivate citizens to engage in the climate cause, for example by reducing energy consumption in their homes.
The municipality can play an important role by initiating and facilitating contacts between such stakeholders, which indeed is already happening through Agenda 21 and the climate activities.