H2-college in Herning
Youth housing as passive houses and energy from photovoltaic cells and hydrogen plant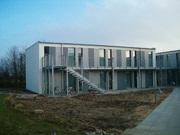 H2-college prefabricated elements as passiv house(foto: Inger stauning marts 2009)
In Birk by Herning the housing association Fruehøjgaard is building youth housing, H2-college, constructed as passive houses, a total of 66 dwellings. They will become part of an area of more homes for the youth, built by Fruehøjgaard in several stages from 1993 onwards. Furthermore, there is a student-house, where photovoltaic cells are established on the roof and a hydrogen plant in the basement as a pilot-project.
The hydrogen plant is to absorb wind energy when it is cheap, store the energy as hydrogen and convert hydrogen into electricity as needed in the youth homes. The photovoltaic cells will provide electricity to the youth homes. Excess heat from these plants is used for room heating.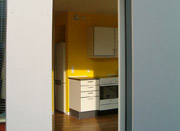 View from garden door(foto: Inger Stauning, marts 2009)
H2College have received the Realkredit Danmark Wise m2 prize, the Dogma 2000 Environment Prize and is nominated for the EU-Commission Sustainable Energy Europe Award.
Youth housing as passive houses
At the end of 2006 Fruehøjgaard approached the Ministry of Housing to get permission to build youth housing as a pilot-project construction with passive houses, photovoltaic cells and a hydrogen plant. It should be kept within the normal square meter price for residence halls with the same rent per square meter as in the whole area, and the other dwellings in the area should not experience additional costs from the passive house construction.
They found an architect firm which had experience with passive houses, Aarhus-architects, and chose Niras as consulting engineers. The problem was to find suppliers who could be responsible for detail-design and deliver items to meet passive house criteria at the determined price.
Constructing according to the passive house standard was brand new. There was only one example in Denmark. Fruehøjgaard tried for 1½ -2 years to find Danish companies which would participate in this experimental construction. They were in contact with 3-4 Danish factories, but they were not interested in entering into this development. They also tried in Sweden, which have longer traditions of low-energy houses and Lithuania who delivers low-cost element construction.
However, they had to go to Germany to find companies who could deliver. Here they have built according to passive house standards for many years and has now developed a construction industry that can deliver elements that meet the requirements.
They found a German company which could not only provide the elements for construction, but also contribute to the design and give advice and guidance to Niras. Niras had great difficulty in approving building solutions because they are responsible for the building, and they lacked experience and knowledge about passive house construction.
The German company could supply elements 40% cheaper than the offer from the Danish companies!
The construction will end up being 8% cheaper than the other youth housing units built by Danish companies! This partly because there was no need for heating installations, pipes and radiators etc., and partly because the elements from Germany were cheaper.
College apartments
The apartments are designed by the architect firm Aarhus-architects who have involved representatives for the future residents in plans for design.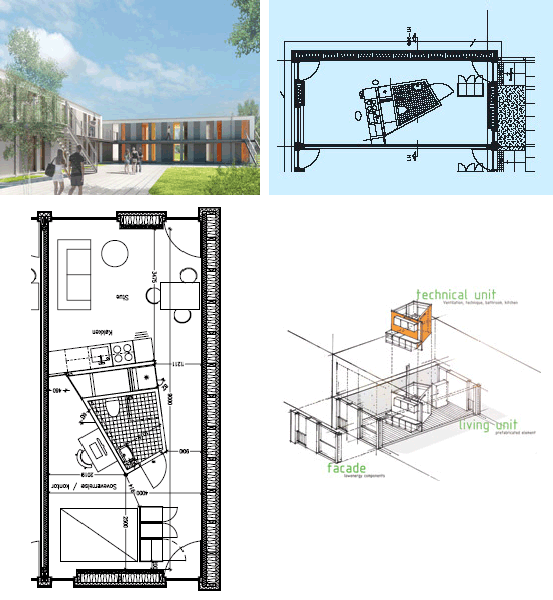 H2-College in Birk – 24 apartements (drawings from
www.h2college.dk
) 
It is two-storey buildings with 6 apartments on each floor so that there is little heat loss from each apartment. The buildings' outer walls, floor and roof are super-insulated and air-tight with low-energy windows and doors and inner walls between apartments are also heavy concrete elements supplied by the German company. Additionally there is core installation in form of kitchen, shower and ventilation with heat recovery and geothermal heat for hot water. The inner core is supplied by Danish companies. .
The apartments are heated by occupants' body heat and turned-on appliances!
In severe cold, ventilation air can be heated electrically to supplement, but otherwise it is not necessary. It is so well insulated that the heat does not disappear. The heat recovery guarantees that the heat from the outgoing air is transferred to the ingoing air. The ventilation is so efficient that there is a pleasant indoor climate without the draught and stir-up of dust as found in homes with radiators and cold outer walls and windows.
Not only are the buildings cheaper than other youth housing, operating costs are also lower because there is no heating costs apart from electricity, ventilation and geothermal heat.
In order to be assigned to an apartment applicants have to why they want to live in a low-energy building in order to ensure that they also in their consumption show energy-conscious behavior, take good care of the facilities and contribute to energy savings.
The Danish Building Research Institute follows the construction in a period of 3 years and will measure the energy consumption, indoor climate etc., and examine residents' satisfaction.
Hydrogen plant and photovoltaic cells as a pilot-project
The idea for the hydrogen plant comes from Herning's strategy to develop the use of hydrogen, for example as a storage for energy from wind turbines, see HIRC, Hydrogen information Centre. It is the energy supply company Energi-Midt who owns the facility and is responsible for the project. There have been grants from among other Ringkøbing County, Herning Municipality, Danfoss, Fruehøjgaard and Energi-Midt for the facility, which thereby not burdens the residence hall with costs for construction work.
Operation have for the first year been subsidized, after which it must be self-sustaining. The electricity will be about 20% more expensive than conventional electricity. This is due to the linear thermal transmittance, i.e. the loss which occurs from the input of electricity, conversion to hydrogen and conversion back to electricity. Here 30% of the energy is lost, although some can be used for heating. Energi-Midt cover this price difference.
Electricity does not come from its own wind turbine, since it is not allowed to erect wind turbines in the local. But wind electricity is purchased at a slightly more expensive price than the general electricity price. The residents do not experience additional costs for energy, apart from the purchase of electricity from wind turbines, which is also a prerequisite for the subsidies. The photovoltaic plant is not viable without subsidies, but is used only for own consumption.
The housing association Fruehøjgaard participates, with HIRC, in a network for exchanging experience on hydrogen.
Housing association with visions
The housing association Fruehøjgaard has during the last 8-10 years developed a strong environmental profile. The association formed in 1950, has 12 employees and manages about 1600 dwellings in the Herning region.
Director Bjarne Krog-Jensen became part of the association in 1998 with new ideas about sustainability. Both staff and residents were sympathetic to the sustainability ideas and developed strategies for environmental improvements and energy savings. An employee was recruited with responsibility for the environment area.
In the last 8-10 years new buildings have been constructed and renovations initiated with special efforts and experiments with energy and environmental improvements and neighborhood democracy.
Effort on energy and water savings and other environmental initiatives in the various housing units
Renovation of Braendegaardsparken, plan for facade renovation according to passive house standard. The façade renovation was sent out in competition, they have been designed and the project is on offer. It is a large settlement with 324 houses from the 60s, where the residents are involved as much as possible, for example through workshops where 75-80 participate every time.
Renovation and reconstruction of residences for the disabled where representatives for residents, staff and the home care has been on the steering committee, approx. 60 people in total. .
New construction with user involvement: In 2004 the housing association purchased a building plot, drew a rectangle on an ad and asked: "Will you help to create your own dream home?" The plan was to build 34 homes and perhaps expand to 75. 250 were interested! They were part of the process from the beginning to the end. The process was followed and reported.
The construction of CO2-neutral youth housing.
Organisation of construction - municipal participation
Fruehøjgaard has been the developer on the project. In addition, following partners participate: Aarhus-Architects, Niras, Danfoss, Herning municipality, Dantherm micro-cogeneration plant, HIRC knowledge on hydrogen, Naturgas Midt-Nord and Green Hydrogen. The project is funded by Realdania and approved under the condition that the rent was not higher than other apartments in the area and that the costs were not passed onto the other buildings.
The municipality's interest in participating in the project is among other things the opportunity of developing the concept of Herning as a green city and hydrogen city. They have provided secretarial support to the coordination of the various actors in the project and they have been helpful with all types of grant applications and permits for construction.
The municipality has provided direct support to the hydrogen plant of 1.2 million DKK in 2008.
The municipality has thus involved the construction as a part their own development strategies for the area and it is mentioned as an important activity on their website and in their Energy City application.
Barriers and potentials in social housing?
Housing associations have many opportunities to go ahead with environmental and energy-buildings. They could as managers of large building stocks contribute to projects on cheapening the elements used for construction. One objective of the H2-college is precisely to develop and cheapen low-energy buildings and contribute to the exchange of experiences.
Fruehøjgaard is a small local housing association. They are represented in the national housing association. They have here been active in the formation of an organization of development-oriented housing associations, called AlmenNet, where 60% of housing associations are represented. Director of Fruehøjgaard is vice chairman. Their homepage describes the purpose of AlmenNet: "Through joint development and learning AlmenNet will prepare the social housing associations and their employees to implement the necessary innovations."
One of the major hurdles is that the National Construction Fund, which administers the housing associations' savings for the renovation and renewal, are not allowed to give grants for energy improvements. Therefore, energy improvements can only be implemented as part of general renovations, even if they could save themselves back in a few years.